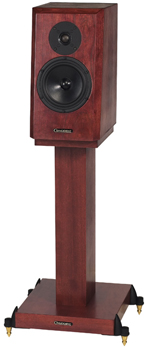 Triumph Extreme II

Coincident is very excited to announce the release of the Triumph Extreme II loudspeaker. This represents an express desire to take a previously world class monitor speaker and transform it into a no holds barred, state of the art transducer.


Taking a world class, legendary monitor speaker and improving upon it is no simple task, but that is exactly what has been accomplished with the introduction of the Triumph Extreme II. All the best qualities of the previous model have been retained with very significant enhancements being implemented.
The improvements are as follows:




1. Woofer-

Changed from the previous 6.5" paper treated driver to the magnificent proprietary 7" composite unit. This is the same drive unit currently used in the award winning Total Victory IV and Super Victory speakers. The woofer represents a major advance in high sensitivity driver technology. Th
e specially designed composite cone's extreme rigidity results in a huge reduction in resonances whileat the same time being capable of extraordinary resolution of detail. The extra large magnet assembly and suspension provides for high sensitivity and a low Q. What makes this driver unique among high sensitivity woofers is its high power handling capability (once thought mutually exclusive with high sensitivity). The sonic benefits of this driver are greater transparency in the midrange with more weight and impact in the mid bass and bass regions.

2. Sloping Front Baffle-

This now creates perfect time alignment between the arrival times of the tweeter and the woofer. Sonically this translates to a more open soundstage with greater focus of instruments. The entire aural presentation sounds more organized and consequently disarmingly real.

3. New Crossover-

As always, the crossover components are the finest available, all matched to 1%, hardwired by lead to lead construction which eliminates signal contaminating circuit boards, wires and connectors. Due to the above noted changes, an entirely new crossover had to be designed to optimize the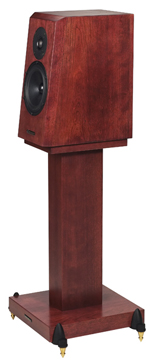 improvements.

The tweeter, enclosure, binding posts and Extreme internal wire are all the same as before.

The end result is a monitor speaker, capable of reproducing all types of music, that will satisfy the demands of the most seasoned listener. This is the ideal speaker for those limited by space, are prepared to sacrifice sub woofer bass, yet still want a reference loudspeaker at an affordable price. Amplifier choice is a personal one as the Triumph Extreme II can be mated to anything from a SET tube amplifier to high power solid state. You can spend a great deal more on a similar type speaker, but you will not surpass its state of the art craftsmanship, component quality and performance capabilities.

Specifications:

Frequency Response: 45 hz - 35 khz (+/- 3 db).
Impedance : Flat 8 ohms
Sensitivity: 94 db @1M - 1Watt
Power Requirements: 3 watts - 300 watts
Dimensions: 16"H x 9"W x 12.5" D
Weight: 32 lbs ea.

Price - $2999 US /pr.

Optional Stand-

Is constructed from the identical, special MDF as all Coincident speakers. The center post which measures 4" x 5" is formulated by constrained layering of 4 - 1" pieces of the MDF. The base is 2" thick and is supplied with spiked feet for greater stability. Optional Extender Feet with oversize spikes( as shown in the photo) are available at extra cost. The Triumph Stand is better built and sounds superior to any other available.
Dimensions: 26" H x 13" W x 14" D.
Price : $999 US/pr.