Amplifiers
Dynamo 34SE MKII
2018 Positive Feedback Writers' Choice Award

Dynamo Mk II Amplifier


Dynamo Mk II


High-End Audio Buyer's Guide Award

Coincident Dynamo MK II Amplifier

Dynamo Mk II Amplifier


2018 the absolute sound - Editors' Choice Awards

Dynamo MK II Amplifier

2018 Buyer's Guide - Top Amplifiers Under $2000
After the overwhelming success of the Coincident Dynamo 34SE amplifier ( Editor's Choice TAS, Blue Note Award by enjoythemusic.com ) we are excited to announce the Dynamo SE 34 MK II. The MK II contains a whole host of significant upgrades that not only enhance performance but dramatically improves reliability, virtually eliminates noise, hum and susceptibility to AC line variation and fluctuation. The end result is taking the already breakthrough performance and build quality of the finest value amplifier in existence and elevating it to a new level of excellence in every parameter. The improvements include the following:
1. Power Supply - The power transformer has been enlarged by 50%. Much improved insulation and winding techniques result in noiseless operation, and a 40% reduction in generated heat levels.
Filtering and energy storage has been increased by a whopping 70%. The sonic improvement is substantial- deeper, more impactful lower frequencies, wider dynamics and the ability to drive a much wider range of speakers without strain. Distortion levels at high SPLs and low frequencies has been reduced by 35%. Furthermore, the large power supply has now been isolated from the sensitive input circuitry resulting in the elimination of electromagnetic interference.
2. Chassis - Not only is the chassis 20% larger in order to accommodate the huge new power transformer, it has been stiffened and braced to reduce unwanted resonances. Sonically this translates to greater purity and transparency. The Dynamo has gone from weighing 22 lbs to 30 lbs.
3. Capacitors- Every single capacitor has been doubled in voltage capacity which provides bullet proof reliability and eliminates potential problems in areas afflicted with high AC line voltage that is prone to surging and/ or fluctuation.
4. Tube Rectifier - The previously used instant on 5U4GB rectifier tube has been replaced with the soft start 5AR4. This provides a safeguard against excessive inrush current upon turn on.
The overall improvement wrought by the MK. II is highly significant. From virtually eliminating noise so that the Dynamo can successfully be used with ultra high sensitivity speakers and increasing its power capabilities so that it can mate with a wider range of lower sensitivity speakers to unshakeable reliability in any environment to stunning performance enhancements that include deeper, punchier bass, greater transparency and purity overall, more expansive soundstage and greater extension and air in the treble all combine to create an amplifier that while is hard to surpass at $5000, is unmatched at its value laden price of only $1499 US. While the original Dynamo 34SE at $1299 US was considered the finest value in all of high end audio, all the huge and costly improvements incorporated in the MK. II with only a $200 increase in price, make the MK. II even more of an audiophile bargain.
For those on a budget but who still demand top flight sonics and build quality, the Dynamo will prove to be a revelation. Single ended triode tube sound that belies its 8 watt power rating. Any 86 db sensitivity speaker can be powered with startling clarity and dynamics. Build quality not seen at twice the price. Perfect for those who want a simple compact set up or as a second system where true musicality is insisted upon. Hard to believe that this much performance and quality can be had for under $1500 US.Volume control obviates the need for a line stage since it permits direct connection to a CD player or DAC. Highest performance headphone amp included with jack conveniently located on front panel.

Features:
- All hard wired.
- Huge capacity power supply
- massive power transformer
- output transformers using 6N copper windings
- polypropylene coupling capacitors
- all electrolytic capacitors 50% over rated.
- state of the art headphone amp included
- high gauge stainless steel,mirror finish chassis
- auto bias circuit to automatically optimize tube performance
Specifications:
Output Power : 8 watts per channel
Tube Compliment : 6SL7 input/driver tube, EL 34 output tube, 5AR4 soft start rectifier
Output impedance : 4, 8 ohms
Voltage selectable: 115V/230V - switch located on bottom plate
Frequency response: 20 hz- 20khz- flat
Sensitivity: 300 mv full output
Input impedance : 100K ohms
S/N Ratio- 92 db
Weight: 30 lbs
Dimensions : 9.5" W x 12.5" D x 7" H
Price : $1499 US

M300B Frankenstein MK II
| | | |
| --- | --- | --- |
| | 2018 the absolute sound - Editors' Choice Awards | |
M300B Frankenstein MK II - This is , without a doubt, the finest amplifier, overall, I have ever heard. - Arthur Salvatore- High End Audio


The M300B Frankenstein MK II mono amplifiers are now in stock. Built to the absolute highest standard -
All hardwired
The finest 6N copper interstage,output and power transformers
Finest Teflon caps
All polyproylene power supply
Self biasing
3 tube configuration (6EM7 input driver, 300B output, 5U4 rectifier) for purest sonics
Input and rectifier tubes are the best NOS American. Comes standard with the finest quality, tested and matched Psvane 300B tubes. Others available at special discount pricing.
Triangular chassis shape to ensure rigidity

These amps represent a sonic breakthrough. Their transparency and absence of an electronic sound set new standards. Mated to the appropriate speakers, they will prove to be a revelation. They easily drive every Coincident speaker model.
300B Mk II Mono Block
Output Power: 8w (Triode) / Se Class A
Output Impedance: 8 ohms
Frequency Response: 20hz-20khz ±1db
T.H.D.: <1%, 20hz-20khz (Ref. Output)
Input Sensitivity: 700mv
Input Impedance: 100kohm (Rca)
S/N: >90db
Tubes: (6em7×1, 300b×1, 5u4g×1) / Channel
Power Requirement: Ac 115v Or 230v±5% 50/60hz (Selectable)
Dimension: 15 W x 12 D x 8.5H
Gross Weight: 18.50 Kgs
Net Weight: 15.50 Kgs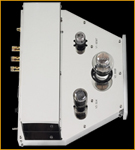 Price -
$6499 US /pr - includes freight


211PP Dragon MK. II
211PP Dragon MK. II Mono Amplifiers - This is the finest high power amplifier I've ever heard. In short, my associates and I hear a combination of sonic strengths we've never heard before. - Arthur Salvatore- High End Audio
We are now excited to introduce the MK. II version of the highly acclaimed Dragon amplifiers. The improvements include:

1. Dual power transformers in place of the previously used single unit. The new transformers individually possess the capability of powering the amplifier. In tandem, they are coasting only using less than 25 % of their rated capabilities. The result is a far cooler operating amplifier, thereby improving reliability and long term
stability. Additionally, the Dragon is now virtually noiseless. It is incredibly quiet which is a remarkable feat for an amplifier this powerful operating at such high voltages. Sonically there is an improvement from top to bottom. The bass is tighter, deeper and punchier. The mids and highs are more transparent and the soundstage more expansive. Due to the reduction in noise, overall revelation of low level detail is enhanced.

2. Chassis Rigidity - To accommodate the dual transformers of the MK. II Dragons, the chassis has been enlarged by 20%. The amplifiers are now 2" wider and 2" deeper and 1" higher. They now weigh 85 lbs, which is 20 lbs heavier than the previous model. The chassis is now more rigid which results in the virtual elimination of chassis induced resonances. The MK. II now utilizes 6 ceramic isolating feet to stabilize the unit.

3. The standard supplied 211 tubes will now be the exceptional Shuguang Pevane. They represent a marked sonic improvement over the previously supplied standard Shuguang. The Pevane is also more durable and reliable and runs 15% cooler.

4. AC ground lift is now included. This switch conveniently eliminates hum created by AC ground loops.

The MK. II Dragon is now the finest sounding, high power amplifier in existence. Its purity is within a hair's breath of the finest SET 300B amplifiers (the Frankensteins) yet its power delivery is awe inspiring. It also runs cooler and is exceptionally quiet.

The purity, transparency and continuousness of a DHT SET but with the power, explosive dynamics, weight and impact of a huge push pull pentode amplifier - sounds mutually exclusive, not any longer. The 211PP Dragon mono amplifiers are such a creation. These amplifiers are absolute state of the art in terms of components selected, circuit design and execution and construction quality. This is unique among high power, push pull DHT triode amplifiers. There has never been a high power, DHT amplifier built to this standard with sonic performance at this level. The Dragons are capable of driving even the most difficult speaker loads.
Features include:
The finest 6N copper interstage, output and dual power transformers


Tube compliment- 6EM7 super tube for input- So much current capability it has its own power supply

300B Driver Tube for utmost purity ( no pentode tubes used in this DHT design)

Dual 211 Shuguang Pevane output tubes in a push pull configuration which dramatically lowers distortion and provides huge power reserves. (over 120 watts of peak power- 80 watts continuous- sounds more like 150 watts)

Teflon caps use in cathode bias circuit

Power supply caps are all 1500V polypropylenes

Highest quality discrete resistor potentiometer permit the direct connection of a CD player thereby obviating the need for an expensive line stage

Binding posts are Coincident 6N copper, .25" solid post

Auto bias

All resisters, red metal film, 1% and none less than 2 watts

All meticulously hard wired

Specs:
211pp Dragon MK. II Mono Amp
Output Power: 75w (Triode) / Push-Pull Class A
Output Impedance: 8ohm,16ohm
Frequency Response: 20hz-20khz ±1db
T.H.D.: <1%, 20hz-20khz (Ref. Output)
Input Sensitivity: 1v
Input Impedance: 100kohm (Rca)
S/N: >90db
Tubes: (6EM7×1, 300B×1, 211×2) / Channel
Power Requirement: Ac 115v Or 230v±5% 50/60hz (Selectable)
Dimension: 11.5 W x 20.5 D x 10 H
Gross Weight: 41 Kgs
Net Weight: 38.5 Kgs


Price:
$10999 US/pr. includes freight.