Reviewer: Tim Smith
Financial interests: click here
Source (digital): 2 TB iMac 27" quad-core with 16GB RAM, AIFF, iTunes, streamed to Apple Airport Express; Audiolab M-DAC; Musical Paradise D-1; MHDT Labs Paradisea+; Maverick Audio Tube Magic D1; Marantz SA-8003 SACD player; Marantz CD5003 and 5004 as transport; Resonessence Labs Herus
Source (analog): Pro-Ject RPM 10.1 with Dynavector 10x5
Phono preamplifier: Graham Slee Era Gold Mk V
Preamplifier: Audio Research LS17; Mapletree Audio Line 2BSE with RM1 Remote using Bent Audio Motorized ALPS Audio Taper (on review)
Power & integrated amplifiers: Line Magnetic 518IA; Wyred4Sound SX-1000 mono blocs; Musical Paradise MP 301mk2, mk3, mk3 Deluxe
Loudspeakers: Harbeth Compact 7ES3; Tekton Design M-Lore; Magnepan 1.7; Mordaunt Short Carnival 2; DIY with Fostex FE 103; Pioneer SP-BS41-LR
Headphones: Beyerdynamic DT 770 (32 Ohm) and DT 880 (600 Ohm); HiFiMan HE-400 with Audio Sensibility Impact SE 7N OCC cables
Cables: DH-Labs Q-10; Connex/DH Labs BL-Ag; Kimber Kable 4TC, PBJ and Hero XLR; Paul Speltz Anti-Cables; Canare; Cardas; Oyaide; QED; Connex/DH Labs power cords; Pangea AC-9; Shunyata Research Venom HC
Power conditioning: Shunyata Research Venom PS8 with Venom Defender; Emotiva CMX-2
Equipment rack: Apollo, Target, Tableau
Speaker stands: Skylan
Room size: 8.5 meters long with nook at each end; 3.3 meters wide; 2.1 meters high
Review component retail in North America: $5'999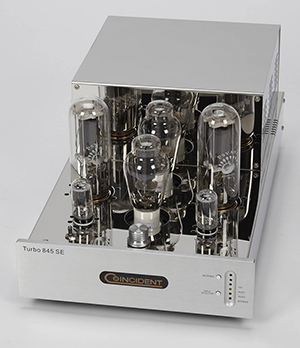 If you look for online clips of Sonny Rollins, Jim Hall, Ben Riley and Bob Cranshaw playing their 1962 classic The Bridge, you'll stumble upon footage from the television show Jazz Casual. Note the incongruity between what the eye sees and what the ear hears. These cats exuded cool but within the sartorial strictures of the day, it's suit and bow tie, bow tie and suit. Behold the bespectacled and slightly rotund Hall, with the look of a high-school math teacher in a John Hughes teenage angst-land film while he grinds some of the most far-out chords from a Jazz guitar until that point in history!
There's no such incongruity between the look and the sound of the Coincident Turbo 845 SE integrated amplifier. It looks fast and powerful and it sounds the part, too. How do I love the Coincident Turbo 845 SE? Let me count the ways. This massive 40kg beast is aptly named, with all the horsepower most of us with dynamic transducers presenting a benign 8O load and 85dB sensitivity will ever need. The Turbo challenges the tired old cliché regarding single-ended tube amplifiers' inability to produce deep dry bass. With this amp, you can have it both ways. Just when you might stress the Turbo's ability to punch like De Niro in Raging Bull, it can morph Sybil Dorsett-style into an entirely different beast, sending notes floating above the stage like Nureyev in Swan Lake. The Turbo is one of the most versatile SET amps I have heard. It can convey the thunder of Holst's Planets but it can also gently lull one into a trance with Debussy's Rêverie. And I have never heard synthesizer sound so dimensional and fluid. From the pulsing Bhangra-techno beat of Midival Punditz to the impish delights of Don Dorsey's (ir)reverential reading of Bach on Bachbusters, the Turbo delivers the goods with all the authority of my 570-watt Wyred4Sound SX-1000 monos.
With that trademark big fat 845 tone, the Turbo is thick but also quick and incisive. The rich midrange and extension at both ends probably account for the Turbo's ability to sound full without overfeeding your room with loudness. The Turbo satisfies my inner tone freak and speed demon. With each and every speaker I used, the Turbo was muscular, fluid, rhythmic, sweet and more resolving than expected. True, it does not emphasize leading edge detail with the precision of an electron microscope like a similarly priced Simaudio Moon but the Turbo is eminently musical if that classic rich 845 tone is your idea of musical. The soundstage is upfront and never recessed. One can listen at very loud levels with no aural fatigue whatsoever. As I turned up the volume, I had a sense of the music expanding and breathing but not becoming compressed or collapsing inward.
Immediately I found the Turbo's sonic signature to be similar to my 845-based Line Magnetic 518IA. That is made in China and costs $1,500 less but the Turbo has a tiny bit more of everything. More snap, more inner detail and more power too.
With complex orchestral music and over-produced rock, the Turbo did a slightly better job than the LM, of setting the table and sorting out the soundstage. On the Stones' "Gimme Shelter", Brian Jones was in the studio in body but not in spirit. With Jagger and Richards about to issue his pink slip, he sat it out whilst Keith Richards recorded all the guitars and overdubbed them. The Turbo sorts it all out to the point that you'd swear it was Richards having a dialogue with his soon-to-be band mate Mick Taylor. Guitars are lit up with laser-like focus. The Turbo brings Merry Clayton's vocals further out into the soundstage than I ever heard before. The clarity is astounding. Mick Jagger actually appears to be saying "War, children" instead of "Whoa, chillah." The Turbo takes this poorly recorded over-produced staple of classic rock and renders it more musical than I thought possible. The Turbo beats the LM in its ability to layer seemingly messy music in an orderly fashion.
Unlike the Line Magnetic, the Turbo does not have a soft-start circuit. You're good to go five seconds after power up. The Turbo is rated at 28wpc, the LM 518IA at 22W. The Turbo's tubes run a bit harder. Since they are married to bigger iron, they put out more power but likely will have a slightly shorter life. Even if that were the case, it wouldn't deter me since a well-made 845 should last longer than most power tubes. Several thousand hours is not uncommon. There's no doubt that my mid-sensitivity Harbeths preferred the extra power and capacitance of the Coincident. I felt no need to reach for my $2'300 class D Wyred4Sound SX-1000 monos on bass-heavy music. And I think the 570-watt W4S monos produce some of the best bass for under $5'000. Whereas they create a sense of dryness and resolution when faced with the challenge of Jaco Pistorius or Stanley Clarke's electric bass, the Turbo served up more body, more thrust. The Turbo seemed more gregarious and outgoing as it projected bass notes further out towards the listening seat. The Wyred monos seemed almost reticent as they pinned bass notes with razor-sharp precision to a thin wall right between my speakers. Bass images from the Turbo were slightly less precise and not as firmly anchored. But the Turbo somehow seemed more true to life and it must produce the best bass I have heard from a tube amplifier including push-pull ones of Air Tight quality. The Line Magnetic is no slouch in the bass department but couldn't match the depth of the Turbo.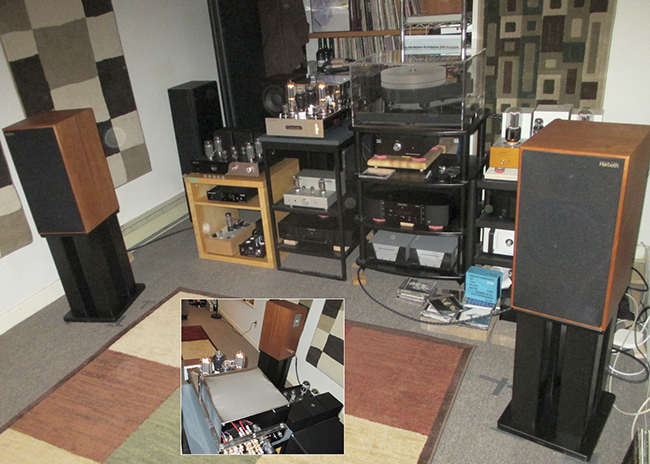 When Coincident owner Israel Blume suggested that I compare his Turbo with my Line Magnetic, he must have been confident about the outcome. As you have surely surmised by now, his confidence was well placed. In my book, the LM wins clearly in just two categories: first, it is a bit quieter, with a bit less hum to probably be better suited to very high-sensitivity speakers and low-level listening in a nearfield setting. The Turbo's hum was within the normal range for a SET amp with massive transformers and no issue with music playing even with my 95dB Tekton M-Lores. Second, although the Turbo is a fine piece of eye candy, I prefer the looks of the comparatively svelte LM. I do however favour the sonic personality of the Coincident. But we are talking about a clear victory on judge points, with the LM still standing at the end of the day, not a clear KO. However one feels about the Turbo's looks, you won't fail to notice it even in the disheveled disorder that is my 'listening room.' Imagine how good this amp would look on a nice Maple rack. And consider my cramped quarters a nod to the everyman audiophile.
At $5'999, Turbo might be one of the best integrated amplifiers one can buy for under $10'000, perhaps even $20'000. It was certainly the most pleasing amp to have spent time in my house. True, that's no pocket change but a business model involving the importer middleman and retailer's cut that emphasized casework bling would result in a sticker of $12'000 or higher. Even as Coincident has thrived in recent years, Blume has not increased prices. If you are looking for an integrated tube amplifier or power amplifier (the Turbo allows you to bypass the preamp stage), the Turbo should be on your short list. If you'd like a very good headphone amp that can compete with most amps in the $500 to $1'000 range thrown in for good measure, the Turbo has that base covered too. It's something no rival 845 amp can claim. And it is built in Canada. Clearly Coincident's direct-to-customer business model holds down the price. A Canadian speaker manufacturer recently told me that he multiplies his total parts and labour costs by a factor of six to arrive at a retail price. Clearly there is nothing like that sort of markup with this product. Where's the beef? Right here.
In addition to the parts seen under the hood, if you peer through the vents on top, you'll find two large toroids mounted sideways, two massive output transformers and two small input transformers to handle the 6EM7 tubes. When you include the $450 retail in tubes provided, there must be at least $3000 retail in parts plus an expensive chassis. And let's not forget the cost of labour in a high-wage nation. In my last review for 6moons, I heaped praise upon the Coincident Dynamo SE, a single-ended pentode design based around the 6SL7 and EL34 tubes. That small but heavy amp now lives in my house where it has utterly transformed my second system, imparting speed, exceptional bass control, an alluring sense of warmth and a fatness of tone I never thought possible to achieve for $1'299. The Turbo 845 SE delivers everything its smaller brother does but multiplied by four. Almost four times the power (28 watts). Four times as many inputs. A tad more than four times the price. And almost exactly four times the weight. For your $6K you get the same sort of stunning stainless steel chassis as the Dynamo but beware since it's also a fingerprint magnet. You get high-quality binding posts and wiring throughout the amp, a ground lift switch, three gold-plated RCA inputs and a pre-in function. As with all other Coincident products, you are paying for the highest-quality Japanese 6N copper and silicon steel.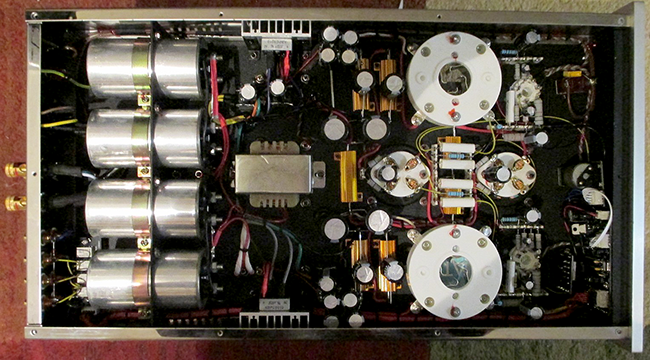 The power and output transformers are at the heart of this 40kg amp. The power supply stores over 510 joules. The Turbo sports four proprietary coke-can capacitors and many more small ones, all of good quality like Rubycon. The general theme is polypropylene. Capacitance is twice that of some US-made amplifiers costing four times as much. This might explain the Turbo's cheetah-like speed and its solid-state bass control. Unlike many inexpensive Chinese-made 845-based amplifiers, the Turbo parts are more than robust and certainly equal to the task of dealing with the 1200 volts coursing through its veins. The Turbo is a near-dual mono design. Only the chassis and power supply are shared. It is auto-biased and hard-wired. The volume is muted upon start-up regardless of the level you'd last set at turn-off. The volume knob is located on the top front of the amp, making it impossible to see just where the knob is set from your listening seat. On the positive side, the four inputs each have their own coloured LED in white, yellow, green and red. The remote control is heavy but just the right size, designed for a human hand not a Sasquatch. It's refreshingly understated. The remote handles source switching, muting and volume. The volume is adjusted using a discrete resistor setup. It works flawlessly, advancing neither too fast nor too slow. The headphone port's output impedance is 300O but you can request another value. With low-Z headphones, I had hum during soft passages. With 600O headphones like my Beyerdynamic DT880, there was very little noise and enough juice to thrash drivers within millimeters of their lives.
The Turbo is equipped with 'entry-level' Psvane 845 that must be considered an upgrade over the ubiquitous Shuguang. I use the Psvanes on my Line Magnetic 518IA but during my time with the Turbo also had the use of Psvane's incredible T-II 845 (currently $399 from Grant Fidelity) and WE 845 Replica ($649 from Grant Fidelity), both on review for WallofSound.ca. The T-II adds a touch of liquidity and warmth. The WE adds grip, dryness to the bass and lowers hum and noise substantially. I used upgraded 300B black bottles in the driver stage. The Turbo ships with standard clear bottles. Rectification is by high-speed Hexfred diodes. And now we come to the most interesting aspect of this amplifier; its use of NOS 6EM7 tubes in the input. This tube is a readily available inexpensive double triode once manufactured by RCA for amplifiers and televisions.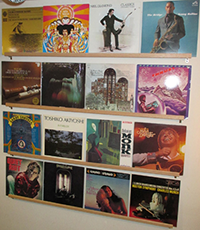 Recently it has gained a niche following in the DIY community as a headphone amp driver and even as an output tube in low-powered SET designs. Blume said in an email that after many years of "experimentation with every conceivable input tube, the 6EM7 proved…the best suited" to his goals. "It has four times the current capacity of the ubiquitous 6SN7. It has so much current that it requires its own power supply and power transformer. It's very costly to implement but worth it. It accounts for the deep impactful bass, wide dynamics and overall transparency and purity." I couldn't agree more. Hooked up to the SVS Prime tower speakers which were in for an upcoming review, the Turbo delivered among the deepest bass I have experienced in my room until now.
As I wrap up my description of the Turbo's guts and its impressive physique, one word of warning. This is a heavy and enormous amplifier. It's lopsided, with little in the middle but much in the back. It will likely protrude from your rack. Just to be safe, I ripped a piece of Plywood to place atop my flimsy rack, using Blu-Tak to secure it. And I had to turn my rack on its side to accommodate the Turbo's unusual depth. Obviously it's a bit awkward but it's better than a two-box solution and in fact reminds me of the Audio Note footprint. As for the sound, the Coincident Turbo puts you in Audio Note Jinro territory for less than ¼ the price. I began my intensive listening with jazz guitar-based music: Russell Malone, Joe Pass, Herb Ellis. The Turbo was a perfect match, even better than any 6V6 or 6L6-based amp I owned or demo'd. That includes brands like Leben and Air Tight.
The Turbo imparts a sense of muscularity and elasticity, somewhat like the tone of a vintage Sylvania 6L6WGB so prized by most Blues guitarists, many Jazz guitarists and some rockers too. But a 6L6 will yield just 6 or 7 watts configured in single-ended mode. I see this amplifier as a sort of 6L6 tone freak's dream come true for its ability to coax that punchy and fluid sound out of medium-sensitivity speakers and deliver floor-shaking bass. There's a bit of that compressed tone that Blues breakers crave but the Turbo could not be accused of compressing the soundstage. On The Bridge, the punch of Jim Hall's guitar belied his small footprint on the stage where he tended to sit and avoid drawing attention to himself. The Turbo created a massive soundstage, turning the Tekton M-Lore, Harbeth Compact 7 and SVS Prime into panel-like holographic giants.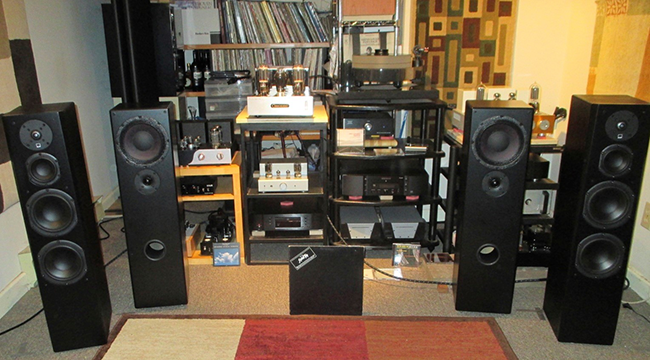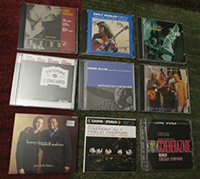 Emily Remler died too young and not famous enough. She burst onto the scene at the age of 24 with her 1981 album Firefly. It was widely acclaimed and seemed to herald a promising career but just seven albums and nine years later, Remler lay dead in Australia, another tragic victim of the needle. Sadly she seems to have faded from the memory of most Jazz lovers.
With the Turbo hooked up to my Harbeths, Remler's guitar was rich and meaty. You would swear one minute that she grew up in the house Wes built, the next minute that she seemed to walk on a far-out limb, presaging the Abercrombie and Rosenwinkel style of the 1990s-2000s. Just like the Coincident Dynamo, the Turbo excelled at capturing all that is wonderful about a tonally saturated Jazz guitar. I'm no synesthete but as I listened to Remler's hypnotically über-overtoned rendition of "In a Sentimental Mood", I struggled to describe its ineffable beauty.
The sound was so warm, rich and inviting, smothering even. Perhaps the warm red block pattern in my carpet explained why Remler's playing conjured up images of Matisse's "Harmony in Red." Whatever the heck I was hearing, it was unusually fascinating. And the reason for it was undoubtedly the Turbo.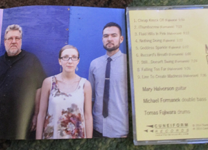 There's something about Mary Halvorson. Is there a more daring jazz musician today? Queen of geek chic, words creak under the strain of classifying her sound. 'Fluid atonalism' comes to mind but such an oxymoronic term does no justice to this avantgarde guitarist. This is the reaction some of us always hoped for but never felt whilst listening to Ornette Coleman. Halvorson seems to be more complex and decidedly impish too. She records with a wide variety of players in duo and trio formats all the way up to the septet. Like Ornette, Mary's contrary but not for the sake of contrariness. Her Thumbscrew Trio is to me the most exciting thing in jazz since Tord Gustavsen emerged as a leader a bit over a decade ago. Halvorson's playing is diametrically opposed to Gustavsen. Where he is romantically reverberant, unabashedly lyrical and prone to elide his phrasing, she is still fluid but more angular, muscular and at times disjointed. He's Leffe Blonde, she's Chimay. With a little patience, you might find an inner logic to her work—with galloping scales squeezed between snippets of skronk—that you might not find in Coleman's whine and screech. Less philosophical about these matters, my wife considers Halvorson's music to be "demented", full stop.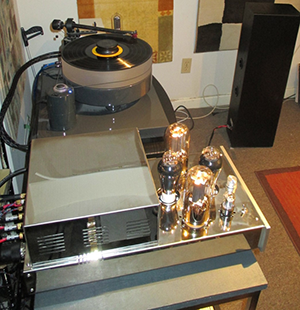 Perhaps therein lies her genius. As I listened to "Still…Doesn't Swing" from Thumbscrew, I sat riveted to my chair. Two-thirds of the way through the track, Halvorson takes a manic run up the fret board only to resolve the musical conundrum she has created with a sort of musical joke, deflating the tension she has built in a slow unwinding prickling process that elicited rip-roaring laughter the first time I heard it. If Jazz's singular appeal lies in its ability to tease and surprise, then Halvorson is the poster girl for that notion. The Turbo has got the speed, the PRaT, the ability to soak my listening room with Halvorson's weird tones. It's that sense of fully developed overtones, of propulsion, of elastic and fluid images leaping out with astonishing speed and then retreating just as fast, that's so enthralling. And it's all so effortless with those coke-can capacitors coiled up and ready to pounce. I've never heard guitar sound so good in my house. And so up the volume went. My Audio Research/W4S SX-1000s are far more powerful but can't even get me halfway there. Only the Turbo let me set my controls for the heart of the sun without blurring the music's vision and causing my ears to bleed.
Think of the high-definition films recently posted on newspaper websites capturing the activity of one of the largest sun spots to appear in decades. And pray to the audio gods that we never live to see our expensive audio equipment fried by a solar storm on the order of 1859's Carrington Event. No surge bar is going to protect us. Like mass coronal ejecta, Halvorson's notes lept forth until the unbearable heaviness of gravity pulled them back. Before there was time to revel in the delicious decay, out popped another loopy note. An acquired taste perhaps, but you won't be able to drink up without a great amplifier like the Turbo. The wonderful Psvane TC5 I have on review for another site will keep up with Halvorson's manic pace but won't simultaneously keep focused on inner detail. My Line Magnetic 518IA keeps pace but seems to render Halvorson in a more polite fashion with a bit less detail. The Psvane TC5 is a KT120-based push-pull amp weighing in at 25kg and currently selling for $1'399 (plus import duties). If the Psvane had a readily pronounced name that did not originate in a typographical error; and if it had a clear brand identity promoted by a wide retail distribution network… it might knock Primaluna off its pedestal. As a two-time Primaluna owner, I believe the Psvane is that good. But the Turbo is so much better! With Halvorson's music, the TC5 shoots straight down the middle in a tight focused way whereas the Turbo gives a wide-angle three-dimensional view. With the TC5 you're trailing the notes like a storm-chaser; not quite there. With the Turbo you're in the eye of the storm to see the whole picture lit from within. The TC5 might be more accurate or it might not be but it seems to be truncating the notes, not letting them bloom and breathe and decay. It's a great amp but not as full and warm as the Turbo, hence less interesting to me.
Listening to Halvorson batters your senses. More readers will relate to the comparatively straight-ahead Keith Jarrett Standards Trio featuring his long-time buddies Jack DeJohnette and Gary Peacock. The Turbo seemed to capture more of the warm glow of Keith Jarrett's piano on "How Deep is the Ocean" [Live at the Blue Note disc 4] than my Audio Research LS17/Wyred4Sound SX-1000 system could. The Turbo reminded me of the depth and warmth a sadly departed 300B-based Musical Paradise amp had imparted to piano. It also brought back memories of a great Naim system I once owned consisting of the 200/202/NAPSC/HiCap2. Jack DeJohnette's cymbal strikes shimmer and shine but they should have weight and body too. Transients were almost Naim-like but with body. That lack of body was precisely what made me leave the flat-earth sound behind. By contrast the Turbo is a great all-rounder.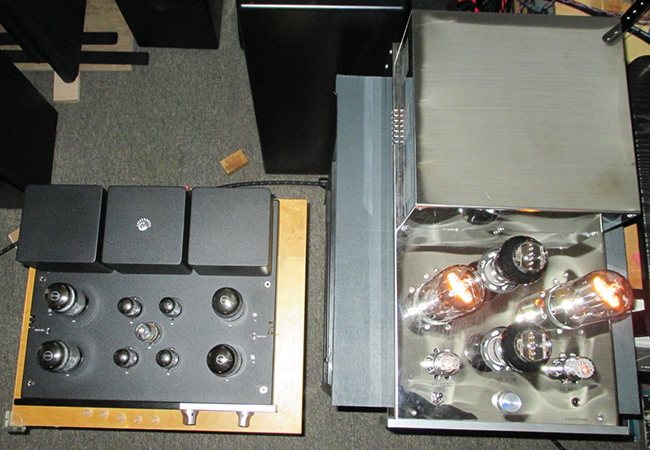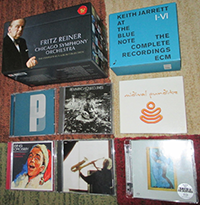 Like a thoroughbred, Keith Jarrett is hard to handle. One never knows which persona will show up. Will he lecture and hector his audience in the wake of that crime of crimes—the human cough—or give of his body and soul? Will he phone it in and go away with no word of farewell as he did in Toronto a few years ago? No matter, there's no longer any need to see him in concert. The Turbo will put him right in your listening room. I had my most remarkable session home alone on a Saturday morning. I blasted discs 2 and 4 from the strangely uncelebrated 6-disc set Live at the Blue Note: The Complete Recordings, a collection that captured Jarrett's trio at its peak in 1994. Discs 2 and 4 each contain a version of "Things Ain't What They Used To Be". On the disc 2 version, DeJohnette steals the show, playing Tony Williams to Jarrett's Miles Davis. Finally at around 4:20 the modest Peacock shows his colours and what a display it is - understated but articulate rapid-fire virtuosity at the top of the neck, a perfect bridge between the brash Jarrett and the cocksure DeJohnette. The version on disc 4 is slower and played more deliberately, less playfully. I favour the disc 2 cut because Jarrett jaunts through the track with an upbeat Gospel-like cadence and there is more energy on display from all three musicians. Towards the end of the song, DeJohnette delivers a wondrous thunderous solo that makes John Bonham sound quaintly polite. My reaction was one of utter stupefaction. How could a 28-watt SET amp produce arrhythmic thunder like this? It was as close to concert-like as I have ever heard and felt in my listening room.
And I do mean feel. After listening to disc II in its entirety, I left the room and had the sensation one gets when leaving a great jazz concert in a small venue - the sense that one has been moved at some primordial level by this great music. No, my ears were not ringing but I felt as though the music—especially DeJohnette's drums—had passed through me and enriched me in some formative way. The music stood as some sort of testament to the genius of the improvisational method and the Turbo had been necessary to realize that. No other amp had had that effect before. The Turbo tended to have this effect with all speakers I used. After a few weeks I began to notice that the Turbo had made my Tekton M-Lore speakers behave like they had with no other amplifier. There was some flesh, some warmth and body in the upper mid range that hadn't been there before. There was a tonal density to all acoustic instruments, a richness and fullness that I didn't know they could produce. Ordinary amplifiers will usually throw up flat banjo notes devoid of body and the cluck and clap of the open-back claw hammer style. The Turbo produces the most realistic banjo I have heard in my house other than the real thing. The Turbo built a sturdy bridge between the Tektons' surfeit of energy at the frequency extremes and the small deficit or touch of hollowness in the midrange. These $600 speakers normally sound like $3'000 speakers but the Turbo seemed to make them sound even better.
I was amazed at how Jimmy Giuffre's clarinet seemed overdosed on overtones and vibrato galore; how Yusef Lateef's flute was aflutter; and Kurt Rosenwinkel's guitar piercing one minute and the next radiant but blurred and soft as butter. John Coltrane's tenor was immense and reedy and the Turbo seemed to be pushing an unusual amount of air. There was warmth without smearing or thermionic thickness. Early Benny Goodman recordings are generally tinny with obvious flaws but the Turbo rendered them more interesting by accentuating Goodman's trademark soft-reeded vibrato and his band's rhythmic pulse. I had the same reaction to some early Billy Holiday recordings. Turning to the orchestral manoeuvres of the darkly brooding Fritz Reiner, the Turbo was equal to the task of keeping pace, creating a large soundstage and capturing the immense dynamic swings he conjured from the Chicago Symphony Orchestra sixty years ago. With my Marantz SA-15S2 Limited Edition SACD/CD player providing signal, the Redbook version of Mussorgsky's Pictures at an Exhibition had soundstage depth and hall ambience to rival the SACD version. The Turbo did just as good a job as my Audio Research/W4S system in uncovering the various layers of these epic Chicago recordings for RCA. With my Harbeths as with my Tektons and the SVS Prime loudspeakers, there was never a sense that the Turbo ran out of power. Ten to eleven o'clock on the dial and my room was louder than I wanted. Strings were rich and ravishing and never strident.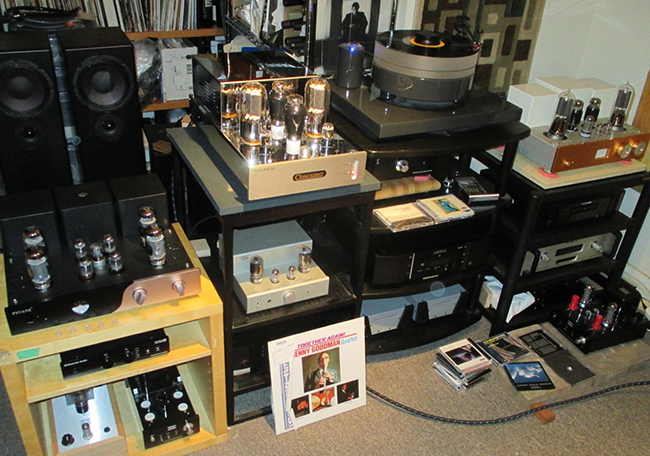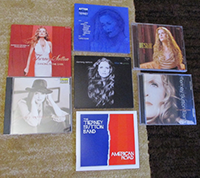 Beauty and the Beast. How would this powerful beast handle the delicate beauty of the female voice? I put some stunning singers to the test. Tierney Sutton's haunting homage to Bill Evans, Blue in Green, passed with flying colours. This gem of a disc highlights Sutton's raspy soprano, that versatile instrument. With Sutton it's all about the music. This Bahá'i believer is no diva. She's a modest medium through which everything old in the Great American Songbook emerges new again. Sutton reinterprets old chestnuts without drowning in the beauty of her reflection in the process. The Turbo tracked Sutton's subtle intonations and undulations up and down with military precision, making one realize just how hard she works her pipes. Again, the Turbo was no Simaudio but quiet and sensitive enough to detect Sutton's slight but sudden shifts in focus.
And so it went with Jane Monheit. As you can see, Monheit's beautiful voice is but one part of her appeal. With a face that could launch a thousand ships, she sings in a sentimental mood but can also do sexy in a husky sort like Kathleen Turner as she ensnares William Hurt in Body Heat, a 1981 neo-noir film. Monheit owns "Dindi, that bossa nova standard penned by Antonio Carlos Jobim with later English lyrics added by Ray Gilbert. Not long into the song—a song I have played hundreds of times—it was clear that the Turbo rendered it in the most exquisite fashion, better than ever. Some say that French is the most lyrical language but they should listen to Monica Zetterlund sing in her native Swedish. Most of her recordings are no longer available but one classic is: the album she made with Bill Evans, Waltz for Debby. As with the Jane Monheit disc, it was the best I'd ever heard. It became sheer and utter purity and clarity, lack of grain and sibilance, with presence and air. With the Turbo, voices carried through the room with an unusual degree of mass and density.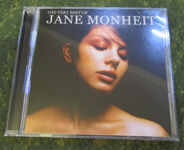 And so I continued to probe the Turbo's prowess with vocals. Next up was a test of what are to me the three most ethereal and hypnotic types, the contralto, the countertenor (equivalent to the female contralto) and the alto tenor. Three singers in particular seemed like logical candidates: Grace Slick in her early Jefferson Airplane years; the brilliant contemporary countertenor David Daniels singing Vivaldi; and Yes man Jon Anderson from the band's early days. These three voice types seemed to rise up above the soundstage and dance in the air. My three sample tracks were obvious ones: White Rabbit, Stabat Mater and Heart of the Sunrise. I was not disappointed. The contralto in particular is somewhat mesmerizing. If Buddy Guy had written and performed "White Rabbit", I doubt it would have had the same effect!
What else does a great amp like the Turbo bring to the table? Air. Ambience. A sense of voices floating—nay, soaring—through space in time. If you've had the privilege of hearing choral singing in a great setting like King's College Chapel in Cambridge, you know how voices can literally take flight. No matter the music, you fall under their spell. The Turbo took me a couple of steps up in that direction, not bad considering how my listening room is just seven feet or two meters high. They say that great art, literature and poetry is born of war, revolution, conflict and suffering. In his eulogy poem to William Butler Yeats, W.H. Auden wrote: "Mad Ireland hurt you into poetry." Irish woman Dolores O'Riordan sings of hurt both personal and political. When she wears her politics on her sleeve, it sometimes gets tiring. But when The Cranberries' singer taps into Ireland's rootstock of allegory and poetry, her preachiness fades and her allure grows. Sure she's derivative but there's something mind-sexy about a pop star who pens the "Yeats' Grave" song based on Yeats' 1916 poem "No Second Troy" which interleaves a political autopsy of the Easter Rebellion's martyrs with Yeats' tormented love affair with the enigmatic Maud Gonne:
Why should I blame her that she filled my days
With misery, or that she would of late
Have taught to ignorant men most violent ways
Or hurled the little streets upon the great
Had they but courage equal to desire?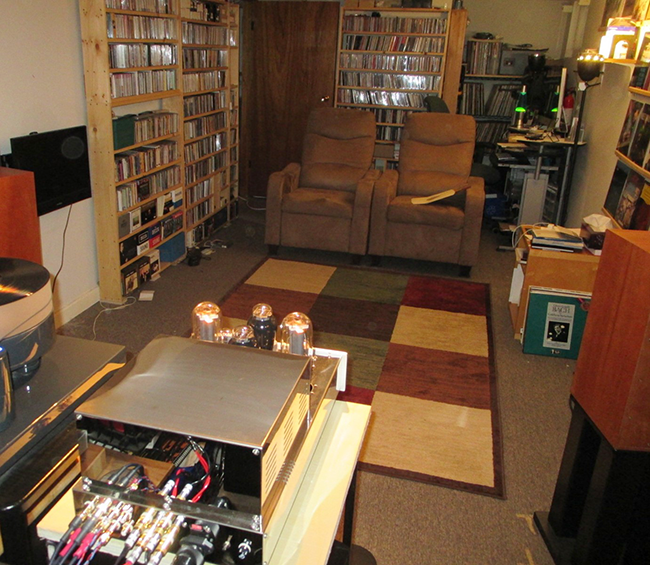 You can listen to Yeats reading his own poetry—there is as of this writing a two minute Youtube excerpt from a radio show in 1937—but why would you? If you dare, be prepared for the Nytol effect. He was a wordsmith, not performer. O'Riordan's sampling of Yeats seems sexier than the words from the bard's own mouth. When she restrains herself, her voice is delicate and subtle, true to her roots. Unlike Mr. Bono Vox or Pierce Brosnan, she has never camouflaged her lilting Irish accent. There is a swirling psychedelic synthesizer dancing along with O'Riordan's seductive voice over "Yeats' Grave". The Turbo excels with synths, capturing all that is sweet and little of what is shrill about the instrument. Mellotron in Led Zeppelin and the Moody Blues' oeuvre was a revelation. Hammond B-3 and electric organ of all types were full and raspy with that cheesy sound reminiscent of the nameless virtuoso organist who entertained Montreal Expos fans at the Big Owe during the 1980s.
At the end of the day, of the 20 products I reviewed in 2014 primarily for WallofSound.ca, the Turbo was certainly the most remarkable. In fact, having listened briefly to a few hundred other amplifiers at trade shows during the same year, nothing else nailed the tone I seek and dazzled me with its iron-fisted muscular command of difficult music, all the while remaining warm and musical. No other amplifier mated so well with my Harbeth Compact 7ES-3. No other amplifier put so much flesh on the bones of my Tekton M-Lore. The Coincident Turbo 845 SE was one of the two most pleasing products to have spent time in my house. The other is my Harbeth Compact 7 ES-3. Like Jonathan and Jennifer Hart, they were made for each other. For the vast majority of audiophiles, the $5'999 marvel that is the Coincident Turbo 845 SE is all the amplifier they will ever need. I think it competes with every integrated amplifier I have heard below $20'000.