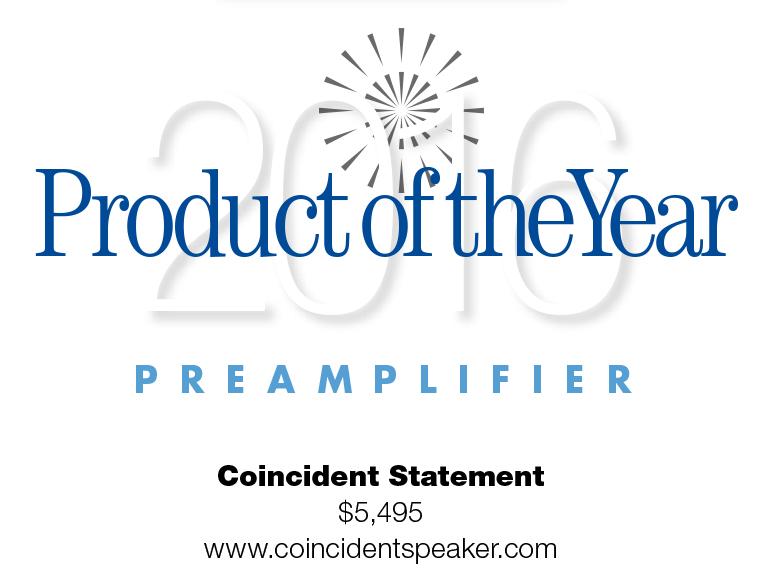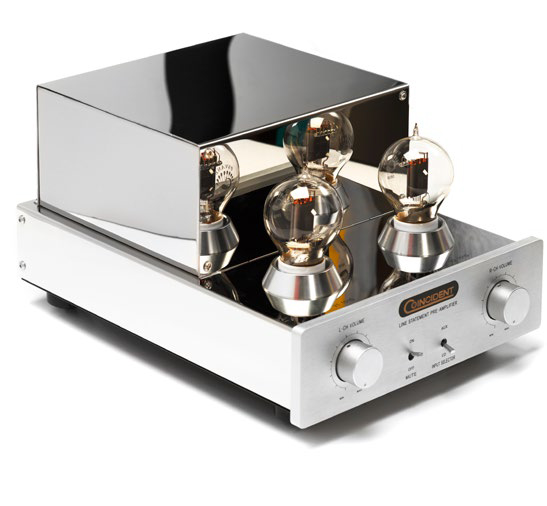 The Coincident Statement linestage delivers performance so far beyond what you'd ever expect from a $5,495 box, all audiophile clichés are rendered irrelevant. Tightly focused in nature, the Statement delivers high performance and is beautifully packaged in polished stainless steel.
With two inputs and two outputs each (switchable between RCA and XLR), control flexibility is limited. But seriously, how many of you have more than a DAC/ streamer and a phonostage anyway? If you can get by with this and forgo the flexibility of a remote control, the Statement delivers sheer performance that a lot of $20,000 preamplifiers don't.
This two-tube marvel, with a massive 42 pound external power supply, renders a musical picture that is dynamic, tonally gorgeous and quiet. With replacement 101- D tubes only costing $200/pair (a pair of premium, matched 101-Ds more, at $700/pair) and a claimed life of 5,000 - 10,000 hours, this one won't break you when it's time to retube.
The Statement is as good as it gets and after 12 years of reviews, we'd put it right at the top of what is possible in preamplifiers at any price. That you can get one straight from Coincident for $5,495 is the high end audio bargain of a lifetime.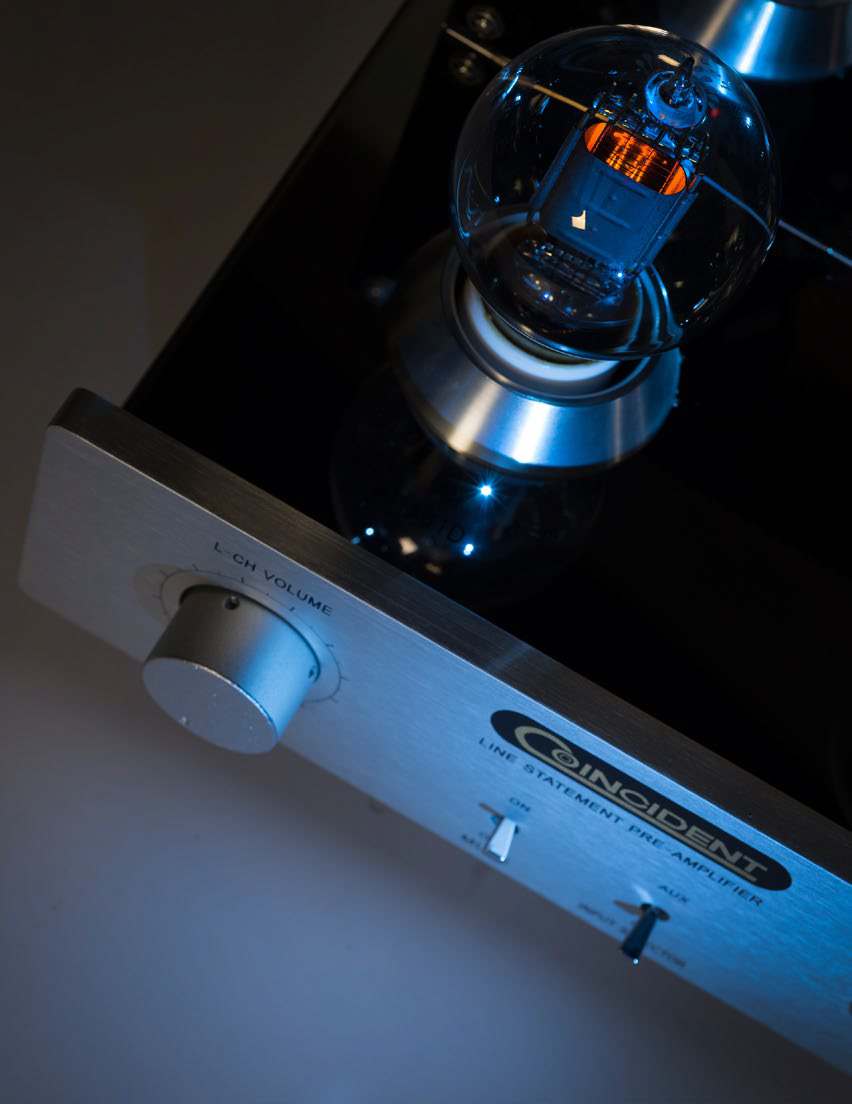 The Coincident Statement Linestage
Nothing but Performance
By Jeff Dorgay
TONEAudio Magazine - Awards Issue. No.80 2016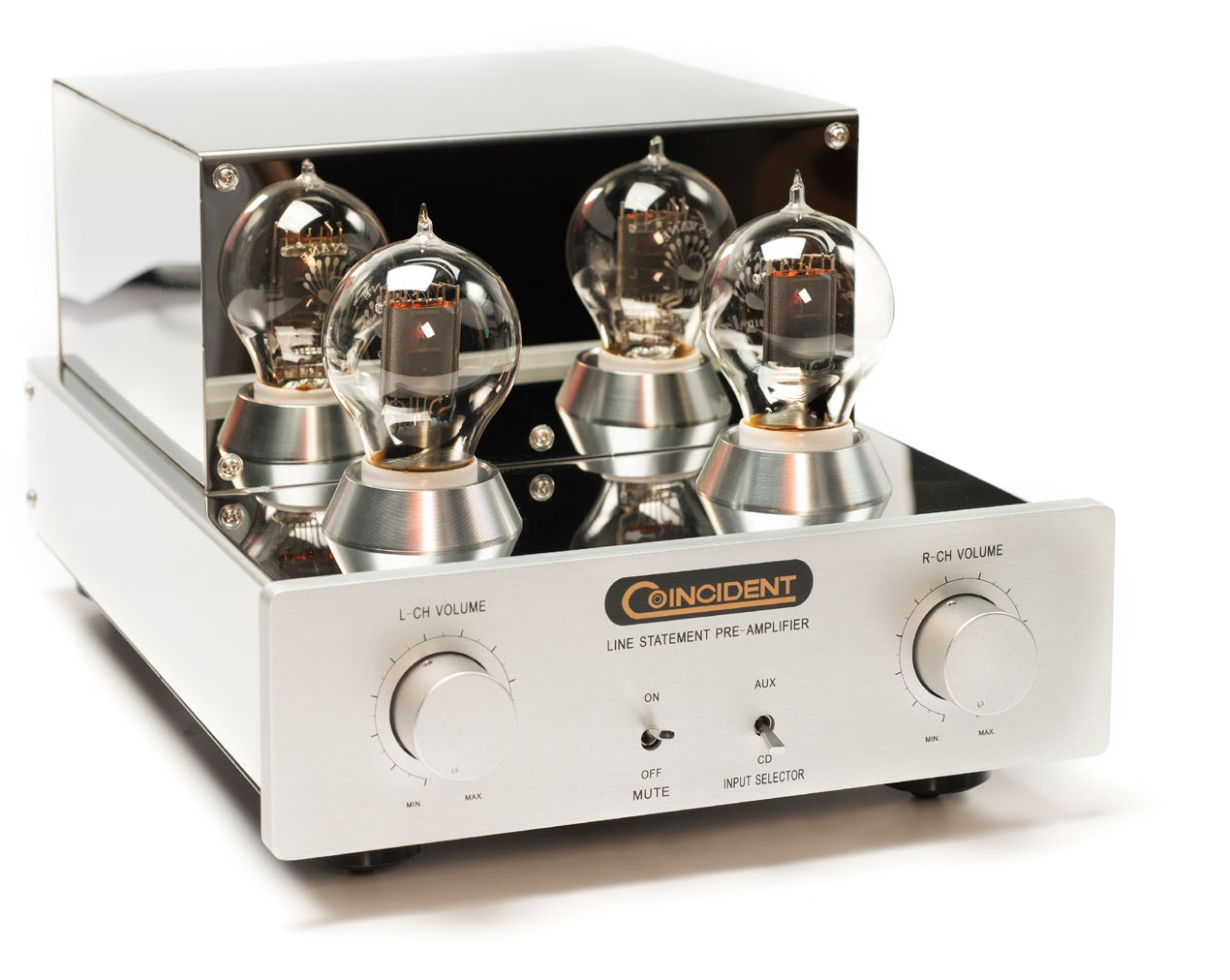 As the grungy lead guitar riff of the Drive-By Truckers' latest album American Band fills the room, it's clear that the Coincident Statement Linestage is a cut above. Way above what you'd expect from a $5,499 line stage. In some circles, you can't even buy a power cord for five grand, let alone a line stage that holds its own with some of the world's finest by the known brands. Gorgeously shiny, this two chassis masterpiece from Canada is just as stunning as the Statement Phonostage we reviewed a few years ago. Coincident's founder, Israel Blume, makes it a point to tell me that the chassis is not chrome plated, but high grade stainless steel, highly polished, which has multiple benefits. "The polished stainless is much more labor intensive, and unlike chrome plating, will never pit or peel. And, the non-magnetic nature of stainless steel provides a significant sonic benefit by eliminating any electromagnetic interaction with the transformers and audio circuitry." After many hours of listening, it only gets better.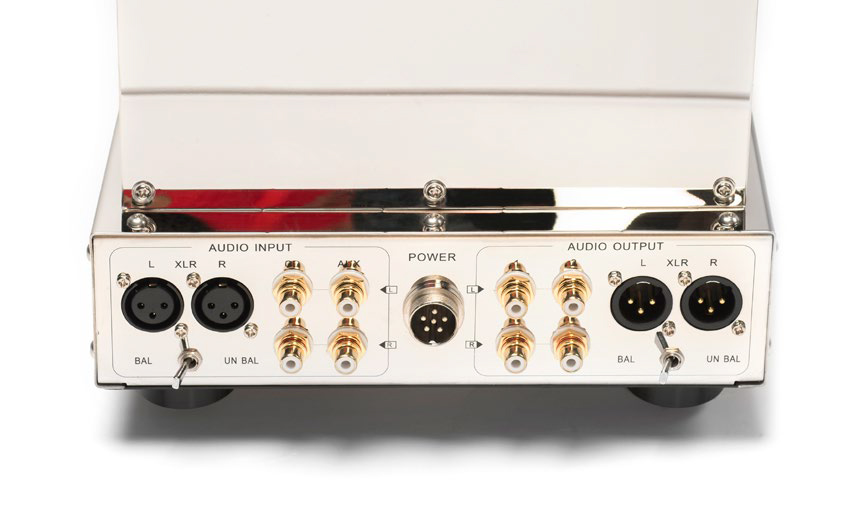 In the day of world-class components having serious fivefigure price tags it's refreshing to hear a line stage that reveals as much music as the Coincident Statement. There's nothing on the market for $10k that will touch the $5,000 Statement regarding sheer musical performance, but it comes with a small caveat. There are only two inputs, balanced XLR or single ended RCA, and no remote control. For those who can commit to a single pair of outputs, those wanting a third RCA input can order this option for an additional $100. Blume mentions that for a while there was a remote control version offered, with motorized volume potentiometers, but to him the subtle degradation in performance was deemed not worth it, and was ultimately discontinued.
Fortunately, a flip of two switches lets you integrate balanced and single ended inputs and outputs quickly. There was no difficulty mixing or matching opposing source and amplifiers and using equal runs of Cardas Clear cable, no sonic difference could be detected through the Pass Xs 300 monoblocks. You can rest assured there is no compromise whatever path you choose. Source components are selected by a simple flip of a toggle switch.
If you don't mind walking over to the rack to adjust listening levels, you can have stateof- the-art preamplifier performance for just over five grand. It's like walking into the Porsche dealership and the salesman saying that you can have a new GT3 for twenty grand. That dream may not be a reality, but if you've lusted after more than one $30-50 thousand preamp, you can have the Statement right now. And, the NOS 101 triode tubes won't wear out nearly as fast as a pair of Michelin Pilot Super Sports. Mr. Blume claims a 5,000-10,000 hour lifespan as typical, and you can buy a replacement set of 101-D tubes that have been measured and matched directly from Coincident for about $200 a pair. A bargain in itself. Those in search of even more performance can get a pair of premium 101-Ds for $750/pair. We will be investigating this option and will report back later in the year with a long term analysis. Still compared to 300B and some other tubes, this isn't crazy money.
Simple, elegant, shiny
The beautiful chrome-plated dual chassis design of the Statement reminds me of some of my favorite components from Burmester. When I used to ask my good friend, the late Dieter Burmester, how to keep his gear looking its best, he laughed and said, "Don't touch them." Fortunately, with the front panel of the Statement being a standard machined finish, you won't have that problem, but use gloves or a microfiber towel to set it into place on your rack, so those shiny chassis stay pristine.
Once those big, bulbous 101 triode tubes are inserted into their suspended sockets and the enormous, 42-pound external power supply attached via the supplied umbilical cord, sit back, relax and enjoy this line stage audibly and visibly. Coincident suggests keeping the two chassis at least a few inches apart to minimize noise, hum, and interaction. Transformer coupled, with no capacitors in the signal path, the Statement is magnificently quiet. As in "stick your ear right up to the tweeter" quiet. Even with the highly revealing beryllium tweeters used in the Focal Sopra no.3s now on review, there's nothing in the background. The Statement is so quiet, if it didn't have those two big tubes poking out, you'd think it just might be a solid-state preamplifier. Classical music aficionados will love the incredibly silent auditory canvas from which even the softest acoustic instruments unfold.
The dual volume controls are somewhat corse in adjustment, though extremely accurate from channel to channel. Where the $30,000 Robert Koda preamplifier remains corse throughout the range (no remote either), it is particularly annoying as you get to the top of the volume range. The Statement's saving grace is that it has a relatively corse adjustment at the bottom of the range, but delivers a smoother gradation from the middle to the top of the volume range - much more useful day to day. Both the power supply and the line stage are hardwired for maximum longevity, and the power supply uses some of the most expensive HEXFRED diodes and all polypropylene capacitors instead of electrolytic capacitors. Coincident puts the money where it does the most good: the parts contributing to mechanical and electrical longevity. As Blume tells me, "The Statement will outlive you or me," and I know he means it.
Inside Job
Directly from the shipping carton, the Statement captivates, but after about 50 hours, once those big power supply capacitors have bedded in, it draws you into the music even further. The Statement gently rises out of a gentle fog as it warms up. In 30 minutes, it disappears completely.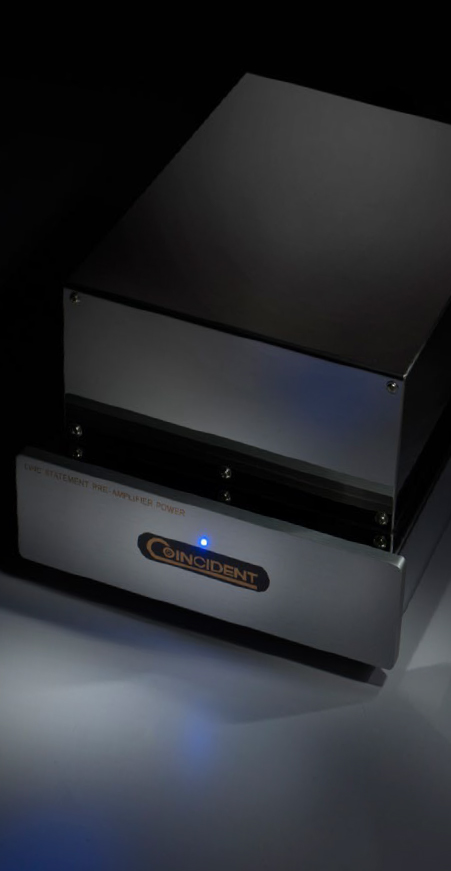 For our readers too young to be familiar with Todd Rundgren, I suggest downloading his more obscure A Capella album on Tidal (or you can pick one up at your local record store for about two bucks) and listen to the delicacy of Rundgren singing with up to 14 additional backing tracks. Should this be a little too old school, try the latest from Jack White, featuring stripped, acoustic versions of most of his catalog. The more delicate the music, the more the Statement shines; these two triodes are a fantastic conduit for low-level detail. Tracking through Radiohead's new release, A Moon Shaped Pool, reveals another aspect of the Statement - the massive three-dimensional soundstage it paints. This recording has left me a bit cold on occasion, but it comes alive through the Statement, with minute musical details everywhere.
Don't think for a second that delicacy is the only card the Statement can play, though. When called upon to produce huge dynamic swings, it delivers the goods - whether reproducing the cannons at the end of the 1812 Overture or the beginning of "For Those About to Rock, We Salute You." Robust and defined bass is the rule here, again thanks to that massive power supply. Another aspect of what makes this preamplifier world class is the way it reproduces the lower registers with so much control, authority, and texture. Bassheads will be thrilled with the slam offered on their favorite EDM tracks, and classical lovers will be amazed at the lifelike rendition of a cello. It's all good here.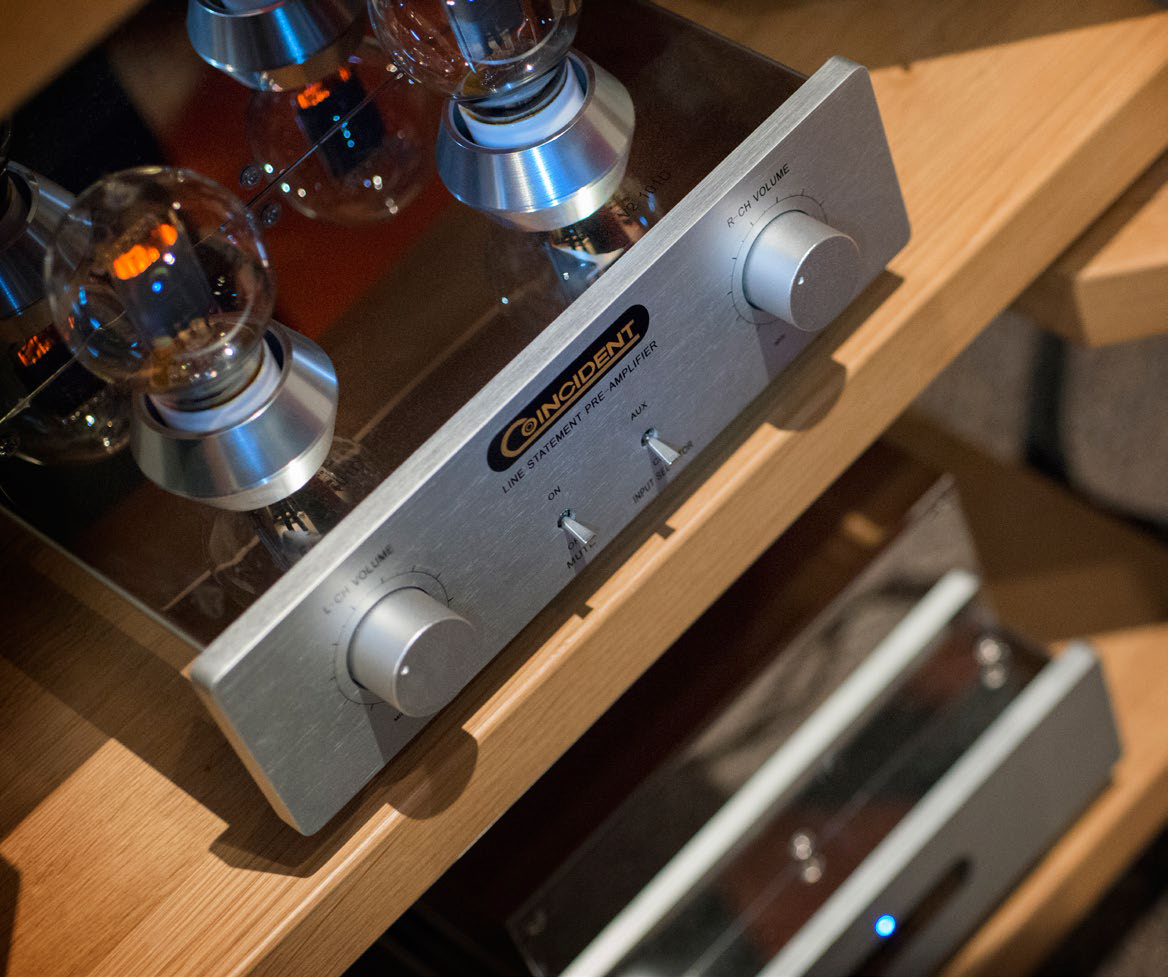 The bottom line
Thanks to a manufacturer direct model, Coincident offers top-shelf performance for an incredibly reasonable price. Even if the Statement were sold via a traditional "dealer markup" model, and cost $10,000 or more, it would still be in competition with the world's finest preamplifiers at any price. What makes it even more impressive is that this preamplifier accomplishes its task by distilling things down to the basics and implementing them at an exceptionally high level.
There are no unobtanium parts under the hood, no proprietary anything, just a simple circuit that is well executed and built to an incredibly high standard. Israel Blume is a man that builds an awesome product and sells it for a fair price. If you need more inputs and outputs, have to have that remote control, or just want the bragging rights of a $30,000 preamplifier, I won't call you out on it.
However, if you are a true music lover that wants a preamplifier built like a tank delivering the sonic goods of the mega-expensive preamplifiers, the Coincident Statement is the one you want. That's why it's our Preamplifier of the Year. I'm buying one for our long-term test fleet, and I'm getting my ass to the gym so I can see if my preamplifier will indeed outlive me.